There are some fantastic social networking support campaigns popping up in support of our beloved guitarist. If you want to show yours, consider the following simple things you can do on Facebook and Twitter:
1. Add a "Twibbon" - a little badge that overlays your current profile pictures on Facebook and Twitter. xdregina on Twitter made a fabulous little badge, and almost 400 people have added it to their profiles in 24 hours: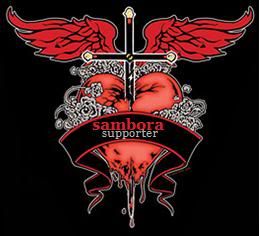 Click to add to your Facebook profile picture.
Click to add to your Twitter profile picture.
2. Add the hashtag
#weloveyousambora
to your tweets - every one!
3. Someone started a page on Facebook called "Letters of support for Richie Sambora."
Add your own little note of support now.
Obviously, these are just simple measures to proudly proclaim that you back Richie. None of these campaigns will be sent to him directly, and he needs to deal with this privately. But that doesn't mean you can't reiterate to the rest of the world how strong the Jovi fan world can be! :)