Before I give you all a slew of news and odds and ends, I feel compelled to remind you all that the final New Meadowlands show (for the May sequence) is exactly one week from right now. I realized that earlier today and literally felt my heart stop, because that snuck up on me WAY too quickly. Usually I feel like I have to wait years for my shows to arrive, and now I'm scrambling to pack and get ready for them! But it's a happy, wonderful scramble. :) (P.S. If you're still looking for tickets, Ticketmaster currently has pit for ALL THREE shows up. I kind of wish I hadn't ordered through Backstage [it's abbreviated "BS" for a reason...] because I could have saved about $50. Oh well.)
Anyway, I've been nannying again the last few days (in-house), so I haven't been around much. But I've been getting Google alerts, blog notifications, and general news through the grapevine, and I thought I should update y'all on the Jovi front in case real life has been distracting you too.
------------------------------------
Back in the Studio...AGAIN?!
First things first, simply because I'm shocked...Jon and Richie have been tweeting from the STUDIO again this past week! They're back "recording a couple new songs for you" (from JBJ on Facebook May 20th).
They never rest, I swear. Even on their days off, they work! But does this mean the Meadowlands attendees will get a sneak peek at some new stuff? :)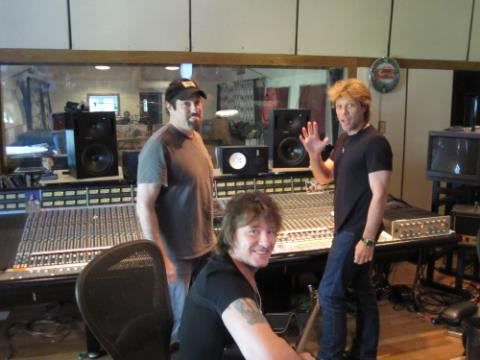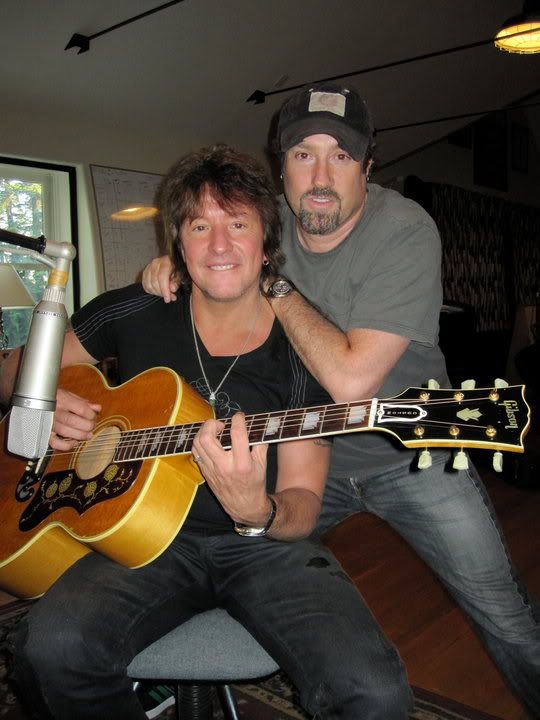 -------------------------------------------
Hershey, PA show
The band returned from a three-week hiatus on the Circle Tour to Hershey, PA on Wednesday (May 19). The set list was extremely vanilla (although LTOR wasn't the end of the main set this time), which I have to say is slightly disappointing. After such a long break, guys, really?
Blood on Blood
We Weren't Born to Follow
You Give Love a Bad Name
Whole Lot of Leavin'
Born to Be My Baby
Lost Highway
When We Were Beautiful
We Got It Goin' On
Superman Tonight
Bad Medicine
It's My Life
Love's The Only Rule
Lay Your Hands on Me (Richie Vox)
Make a Memory
I'll Be There For You
Something For The Pain
Runaway
Work for the Working Man
Who Says You Can't Go Home
Keep The Faith
Wanted Dead or Alive
Living on a Prayer
Anyway, reports were that the show was great -- and I read somewhere that some publication picked up on the fact that Jon used the maracas (I think he was compared to Ricky Martin!) and couldn't believe it! Bit slow on the uptake, methinks.
----------------------------------------------------
Tico Torres -- Cigar Aficionado
An article ran about our very own Cuban drummer on cigaraficionado.com, and I thoroughly enjoyed reading it. (Thanks to Queenie and Hath for the story!) Here's a snippet:
Golf is Torres's outlet for relaxation as well as his exercise when Bon Jovi is on the road. While the other members of the band head for the gym on tour, 56-year-old Torres uses his days off to hit the local links.

"I've met a lot more interesting people through golf than through my career," says Torres. "Willie Nelson got me into golf. I love the integrity of the game. You meet people and spend the day doing things together. You might be from two totally different walks of life but you have that time together."

He's befriended several professional golfers and played rounds with many of the greats, including Tiger Woods. Asked if it was humbling to go tee-to-green with Woods, Torres doesn't miss a beat: "But he can't play drums."
You can read the entire article
here
.
--------------------------------------
David appeared on Q104.3 (Jim Kerr show) last week to talk about his Tony nods (you all heard about
that
, right?), Memphis, and Bon Jovi. He also performed "Memphis Lives In Me" (LOVE that song) live in the studio. Check it out!
P.S. Jeff Kazee has officially confirmed that he will be filling in for Dave on June 13 at the O2 Dome in London, while he attends the Tony Awards. Best of luck to him and Joe!!
--------------------------------------
American Idol ~ Superman Tonight
The band performed on AI on May 12, along with other guest Chris Daughtry (have you heard the news about him, by the way? He and wife and expecting twins this winter!) So Richie's mic was WAY too loud, but really, who's complaining with a voice like that?! ;)
--------------------------------------
"When We Were Beautiful" premiere
And finally, the new WWWB video will premiere on bonjovi.com at 12:00 am PST Monday, May 24th...but Backstage members got to see it first yesterday. (Hallelujah, finally a perk! It's not worth $50/year, but still.)
----------------------------------------
Hope you are all doing well, and for those of you journeying to Jersey for the Meadowlands shows this upcoming week, travel safely!! (Let's especially pray for no volcanic activity so our European friends can get here sans crisis!) I'll be flying into Newark on Tuesday night. CANNOT WAIT!