I love Vegas. I really, really do. It's such a different city, and it offers EVERYTHING -- from the wild hot nights to shopping to naughtier back-room fun to luxurious relaxation. It has anything and everything you could want, whatever your style.
And my favorite way to do Vegas is Bon Jovi style. ;)
I've seen the band there three times now, since 2005:
2005: Hard Rock Hotel's Theater Under the Stars 10th Anniversary Bash (off-tour)
2009: Hard Rock Hotel's The Joint grand opening (off-tour)
2011: MGM Grand Garden Arena (Greatest Hits tour)
It's always such fun -- the atmosphere of Sin City coupled with your favorite band; the excitement and adrenaline never stop. And since Vegas is such a big tourism stop, fans from all over the world flock to see the band when they're there, so there's no shortage of the Jovi fever.
This weekend was no exception. My friend Trish (from Philly) and I rented a car in Los Angeles and drove the 350 miles across the desert to those bright, sparkly city lights (I told Trish that there will be miles upon miles of endless dark desert stretching out as far as you can see...and just when you think you're going to die of boredom, the lights appear in the distance. They're either a hallucination, or Vegas. Luckily, this time, it was Vegas.) Traffic was heavy because of March Madness and a big wrestling match in Vegas the same weekend as Jovi, so basically everyone and his mother was in town.
We had quite a blast on our own - I think we were at the bar until about 2am Saturday morning/Friday night and there was shameless flirting with a group of Irish guys near us. When I was so buzzed and exhausted I could barely see straight, that's when we trudged upstairs and caught a few hours of sleep (I slept like a rock - thank you, daquiris.)
The next day several of us - Trish, her friends Kim, Denise (whom I thoroughly enjoyed meeting and spending time with) and my friend Michelle (one of my Cali "sisters"!) all hiked from the Sahara Hotel to the Graceland Wedding Chapel (where JBJ got married)...which was SUPPOSED to be a mile away. According to friends, according to GPS, according to hearsay...but apparently they all lied. And I will forever be blamed for making four exhausted women hike "ten miles" (it was nowhere near that far, LOL) to the chapel. But we got souvenir wedding registrations from Jon's wedding, so suck it up! :p
That was fun, as I have never been there in all my visits to Vegas (Jovi-related or not.) But it took up most of the day before we had to return to our hotels, get ready, and head out for BON JOVI TIME! I always love those pre-show festivities: drinks, food, good friends, hugs, and a hell of a lot of laughter.
Six of us - Kim, Denise, Trish, Trish's friend Lyn from Canada (who roomed with us), Michelle, and I - had dinner at New York, New York (avoiding the MGM at all costs because of crowds!) and then headed over to the arena.
It was very strange for Michelle and me, who are only two members of the California Jovi Quad, to be separated from the other two - Sandra and Debbie - because the four of us ALWAYS do shows together. With the exception of my New Jersey shows last May, I don't think I've been to a single show without them. I loved spending time with Michelle, but sorely missed Sandra and Debbie -- and this was their last show, which made it more bittersweet. But time has a way of slipping away like sand in Vegas, and we only had time to hug and kiss the girls before we all had to follow our own itineraries for awhile.
I also didn't get to see my fellow San Diegan Julie, but I did see two other SD fans - Greg and Suzy, whom I haven't seen since the Lost Highway tour, and who always make my day with their kind compliments on my blog and photographs. (It was great to see you two again!) We met up briefly before the show, chatted about the set list to come, and then were separated again. Inside the arena, I had no time to see my friend Joanna from NJ, but we blew kisses across the floor. LOL. And after the show, I got to see my NorCal girls Liz and Serene, whom I haven't seen since the Vegas show in 2009. I really wish we all could have had more time to meet up for a huge dinner and drink party or something...but again, that's Vegas!
Anyway, I know you didn't want to read about my encounters with friends, so I'll get on with the show review. ;)
Michelle and I were in the back sections of the floor - the second farthest seat I've ever had at a Jovi show - and yet I had a ball. Sandra and Michelle bought me the ticket as an early birthday present (thank you again, girls!) and I truly was just happy to be there! And I kind of liked being out of good photo-taking range, so I was forced to put the camera down and focus on the music and the energy. I usually try to balance those two elements out anyway, but it was nice to have an excuse to just soak up the concert itself.
It was clear from the beginning that the real fans were anywhere but the front sections and pit. Not entirely, of course, because I know several diehards who WERE lucky enough to be close, but they were the only passionate ones there. From our rear vantage point, the front just looked dead -- and I read on Twitter that someone hosted a live stream, and everyone kept commenting that the crowd sucked. Let me clarify: the crowd was actually AWESOME. Unfortunately, you all only saw the sections with the VIP and comped seats. If you had turned around, you would have seen what I saw: entire rows of people wiggling and swaying, throwing their hands in the air, dancing with each other, smiling, laughing, and keeping perfectly in time to every "It's alright," "Wanted!," "Yeah," or "Faith!" Jon threw out for us. I literally tore my eyes from the stage to watch the stands, and I couldn't help but GRIN at the response of the crowd. It was electrifying! So even in the equivalent of 26th row, I had fun because the crowd's energy kept me going.
The experience was not without pitfalls though - an extraordinarily drunk woman a couple of rows in front of me kept falling into people, throwing herself into the aisle and dancing, and one time fell clean over on her back. I wanted to help her, really I did, but she had been driving us so insane that I rather enjoyed watching her struggle like an overturned bug on the floor. Just a tiny bit.
I must have the short people's curse, because I ALWAYS manage to get the seat behind TWO tall men (it's always two, I don't know why) and I spent the entire 2 1/2 hours craning my neck and hopping up and down to catch even a glimpse of the stage. I can't even remember the last time I HAD to watch the screens to see what was going on.
And my favorite - Michelle is going to laugh out loud when she reads this - was the man three rows up, bottle of alcohol in one hand and a bag clutched in the other, scraggly long hair, and an unnecessarily large hat, who seemed to either be drunk, an attention whore, or both. He would NOT STOP DANCING in the aisle, throwing his arms (bottle and bag still in hands) into the air, and bugging the crap out of everyone around him. I don't know WHY security left him alone, but I was ready to murder him by mid-show. Every single solitary time either Michelle or I tried to get a picture (the precious few times Jon actually stands STILL), that man's hat, hair, or hand was in our frame. It was almost a joke -- he was constantly ruining our pictures or preventing us from getting any. I think the only time either of us got ANY photos was when he went to the bathroom! Hence, why I only took a little over 100 pictures total (mostly from rapid succession shooting, too, so that doesn't say much) and maybe 30 of them came out well. I gave up even trying halfway through, and Michelle and I took turns taking the aisle seat so we could see!
But those setbacks were minor when I take it all in stride, and I really did enjoy the show. The band was in high spirits, Jon was on FIRE (energy-wise and vocally!), and even though he promised that "Even if the casino gets mad at me, I'm not letting you out of here for three hours" and lied, the 2 1/2 hours provided a damn good show.
The set list was vanilla-ish. Not entirely predictable - they started with Prayer!! - but it didn't knock us off our feet, either. I'm not complaining, just telling it as it is. I thought we were in for a hell of a night when they opened with Prayer, but the rest was pretty standard.
On the circle, they performed IBTFY, Love For Sale, and Saturday Night - and on Love For Sale, Tico growled out the last line so well that Jon insisted, "Hey, do that again!" So he did. And everyone cheered. It was awesome!
The encore, however, was a pleasant surprise - with I Love This Town, and In These Arms...which I haven't heard live in a long time, and upon hearing the first chord I burst into tears. lol.
And Hot Legs during Bad Medicine was nice, but I would have looooved to hear Pretty Woman! It didn't matter though, because Jon was having waaay too much fun for me to complain. LOL. He was full of strut and swagger and dance, and as he sashayed for the audience, the attention whore soaked it all up and announced to the rest of the band that "they're responding to my advances - it makes my heart flutter." WELCOME TO MY WORLD, JON!
After the show we met Obie (I've met him before, briefly), but he didn't have any set lists left. :( He did take pictures with us, though, and I told him I'd see him in Vancouver -- to which he laughed and agreed it was a date.
All in all, the show was great. I had fun, I was in good company, and the band made me smile, sing, and cry, which I consider a success. LOL. And it was great to spend time with Trish, whom I hardly ever get to see. :)
This was a spread in the Las Vegas (Showbiz Weekly) magazine - I have the magazine from each Jovi show I've been to in Vegas; they always have a spread, and the mag is free in the hotel! ;)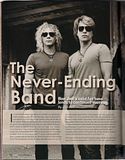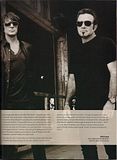 Oh, and we saw "creepy Bobby" (lmao, Trish's words, sorry!) the next morning on the strip as we sat in horrendous traffic trying to get home (insane weather plus westbound traffic made it a brutal, nerve-fraying 8-hour drive home...yikes), but we never saw anyone else. Maybe someday I will.
But for now, I'm resting, trying to get through the week, and then I leave for Vancouver on Friday - bound for my final stop on this incredible tour, with a 3rd row pit seat and a heart full of excitement and nerves. I hope it's everything I want it to be!! x
Las Vegas set list - March 19, 2011
Living On A Prayer
You Give Love A Bad Name
Born To Be My Baby
We Weren't Born To Follow
Blaze of Glory
It's My Life
Runaway
The More Things Change
We Got It Going On
Bad Medicine/Hot Legs
Lay Your Hands On Me (Richie vox)
(You Want To) Make a Memory
Bed of Roses
I'll Be There For You
Love For Sale
Someday I'll Be Saturday Night
Who Says You Can't Go Home
I'll Sleep When I'm Dead/Start Me Up
Blood on Blood
Have a Nice Day
Keep the Faith
Dry County
Wanted Dead or Alive
I Love This Town
In These Arms
P.S. These are for Karen. :) Believe it or not, HE was more photogenic than Jon that night! (And the second one just made me laugh out loud when I got it.)